Fagroongala is a Celtic trio who compose, arrange, and perform original and traditional music from Canada and the UK, in both French and English. 
To reveal the depth and contrast of emotions in lyrics as well as instrumental music, the band's repertoire draws not only from Celtic roots but also classical music, funk, and other popular styles. Fagroongala's songs, many of which predate Canadian confederation, are adapted with modern instrumentation, rhythms and harmony. 
Duncan Cameron sings and plays fiddle, bouzouki, and many other instruments. His diverse skills were an asset to many groups including The Pierre Schryer Band (Juno nominated in 2004), Fig For a Kiss (nominated for a Canadian Folk Music Award in 2006), and The Irish Descendants.  
Cristina Masotti, who sings and plays violin, has played with multiple orchestras (both symphonic and theatrical) in Sudbury and other Northern Ontario towns. In addition to her expertise in teaching and playing classical violin, she has formed various original bands including The Ginkgo Girls, The Panties, Fritz, The Aliens and others, with styles including Rock, Electronica and Lounge.  
Brittany Goldsborough, who sings and plays double bass, received her B.Mus and B.Ed from McGill University in 2009. She now plays with the Sudbury Symphony and Swing Fever Band in addition to Fagroongala. She is also the music teacher at Marymount Academy Secondary School where she teaches instrumental, strings, and guitar. 
Fagroongala performed on the main stage opening for Natalie McMaster at the Northern Lights Festival Boréal in 2016 and other festivals in Sudbury. The band plays regularly at several live music venues, corporate events and weddings in Sudbury, Ontario. Most recently, Fagroongala performed to a sold out audience for their self-produced show at the Sudbury Theatre Centre.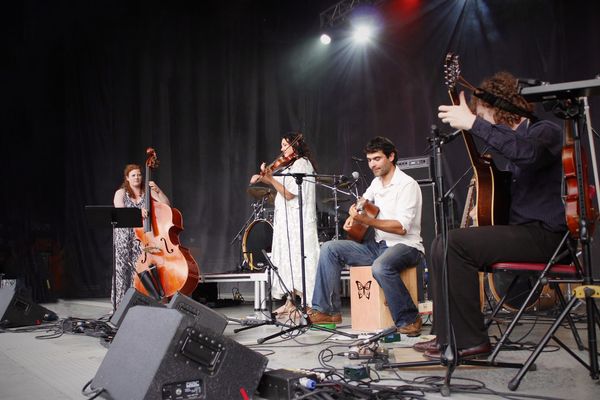 noun (musical). In piping, a series of notes consisting of the subdominant (fa) and submediant (la) notes in a major scale, separated by a groonga ornament, as in, "McTavish only garnered the second prize because of his subpar fagroongala." 
noun (collective). The ensemble of allergies a person may have to animals, as in, "Whenever I come home from tour, my wife knows what pets I've encountered by her fagroongala." 
noun (onomatopoeic). The sound of a drawer opening in a morgue when the corpse has been removed in order to accommodate concealed lovers occupying it. As in, "Even with my eyes closed, I knew I had the chance to fire you when I heard the fagroongala." 
interjection (archaic). The encouragement given to newly married men to woo their wives with music. A misspelling of the French "Fais groon, gars là!" which means, "Make groon, lad!" When Scottish men married Irish women it was once the custom for the groom to find common ground with his bride by composing a tune. This tradition of the groom tune or groon was preserved when Irish and Scottish immigrants came to French Canada. E.g., "After the priest said, 'You may kiss the bride," all the attendees exclaimed joyously, 'Fagroongala!'"

place name. The forced labour camp for Fraggles who dissented from Jim Henson's workshop. Fraggle Gulag was mispronounced and misspelled due to missing teeth and malnourishment. No one has ever returned from there. Only tufts of orange and green felt have been sent back to their families as a warning.